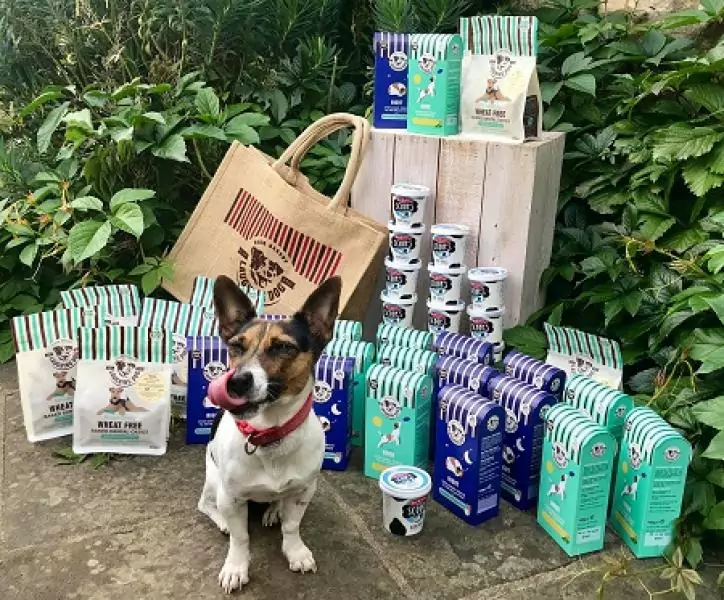 To celebrate National Dog Day we teamed up with our friends at Marshfield Farm Ice Cream, owners of Scoops's ice cream for dogs, a special creation of super tasty dog-friendly ice cream for your best friend. One lucky pooch won a year's supply of Scoop's ice cream and over £90 worth of Laughing Dog natural baked treats!
After tasting some of Scoop's doggy ice cream (our farm dogs had the pleasure…not us!) we wanted to share with you why we think this dog treat is just so special….
From the farm
Like our farm bakery, Marshfield Farm Ice Cream is a family run farm. A dairy farm first and foremost, it wasn't until Will returned from agricultural college in the mid-80s that ice cream became part of his parent's farm.
Run by Will and his wife Dawn, the addition of ice cream grew from strength to strength. The very first flavour they made was vanilla. This was followed by strawberry and chocolate. And these flavours are still the most popular out of Marshfield's current range of nearly 30 ice creams and six sorbets!
After many years of hard work and long hours the farm has grown to over 1,100 acres of organically farmed land. A lot has changed over the years, and in 2018 Marshfield Farm Ice Cream celebrated 30 years of ice cream making.
There are now 250 cows on the 1,100-acre farm and any left over milk from production goes to a dairy to be bottled. In 1999, the farm became organic, certified by The Soil Association. This means looking after the environment and trying to be as sustainable and self-sufficient as possible. Organic crops grown include wheat, barley and oats as well as grass, which is made into silage and hay for the cattle.
One of Dawn's biggest passions is sharing the story of real ice cream-making and sustainable farming, with school and college groups. Marshfield Farm is even used as a case study for diversification in a number of local school's Geography classes.
Dog-friendly ice cream
Scoop is Dawn and Will's family farm dog who is always at their side. This year the farm team thought it was about time she got an ice cream too! Scoop's Ice Cream for Dogs is a frozen treat to get tails wagging – and we cannot agree more with their belief that treating the family means treating the dog too!
Scoop's ice cream contains:
Reduced fat, sugar & lactose content
Glucosamine – for joint care
Vitamin C – for the immune system
Omega 3 – for a glossy coat
You will be able to spot Scoop's ice cream at cafes and ice cream parlours across Britain. For more information, click here to read about the farm.