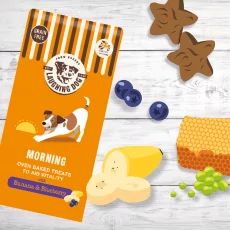 Here at Laughing Dog Food we have set oursleves a challenge to get fit in 2020, and we invite you and your four-legged friends to join us too!
#Januarychallenge
We are passionate about providing the most delicious and nutritious dog food recipes for your furry-friends. But to get the pawfect healthy balance that we all desire, fitness and activity must also be top priority!
…
We have put together a list of our top 5 favourite tips that you can take up with your four-legged friend for your very own #Januarychallenge, in order to make 2020 your year of fitness and balance!
1. Walkies
It certainly seems obvious, with this being how most pet parents ensure their four-legged friends get off the sofa! But this is due to how convenient and beneficial walks really are!
Walking with your four-legged friend not only targets physical health, but it is also a great way to build a bond.
Top Tip: If you are on a tight schedule, break your dog walks up and squeeze them in at various opportunities in the day, e.g. a productive pre-work walk followed by an evening stroll. Why not join a dog-walking group locally to you?
2. Doga!
Did you know that you can take part in dog yoga?! This very popular dog-friendly activitiy is a fun way to bond with your dog and get fit with your four-legged pal at the same time! Not only is dog yoga beneficial for your physical health, it also helps to clear the mind, and can help improve sleep. There are lots of trainers offering dog yoya – simply pop online to find a workshop close to you.
3. Swimming with your dog
Some of the healthiest athletes are swimmers! Ensure the water is clean and encourage your four-legged friend to wet their paws. Add floatable toys for extra fun and to gradually guide them deeper into the water. Be sure to provide lots of praise, as this will help your four-legged friend feel comfortable to explore the water further…! it is really important to remember though that water is not everyone's cup of tea and you might find that your dog does not like it. It is also important to always ensure your dog's safety comes first. Click here to read the PDSA's top tips for keeping dogs safe when swimming, as well as important information for teaching your dog to swim.
More and more common are dog-friendly swimming pools and dog-friendy hydro pools – simpy pop online to find out if you have one in your area. The LonDog Blog also has a directory of dog-friendly swimming pools.
4. Don't let a rainy day get in your way!
During colder months, invent fun games for your dog to play inside. Try using healthy treats to encourage them to go on an indoor adventure.
5. Pawfect sized meals for dogs
According to the founder of Association for Pet Obesity Prevention (APOP), pet obesity is not a pet problem, but a human problem. All of our Laughing Dog Completes and Dog Treats come with a feeding guide to help you ensure that your pet is maintaining a healthy and balanced diet, but if you have any questions or need any help at all, please do pop us a call to our freephone number 0800 0988057 as our nutritionists would be happy to help.
Be sure to tag us in your #Januarychallenge posts, using the tips above, and perhaps you'll be featured on our social media…!