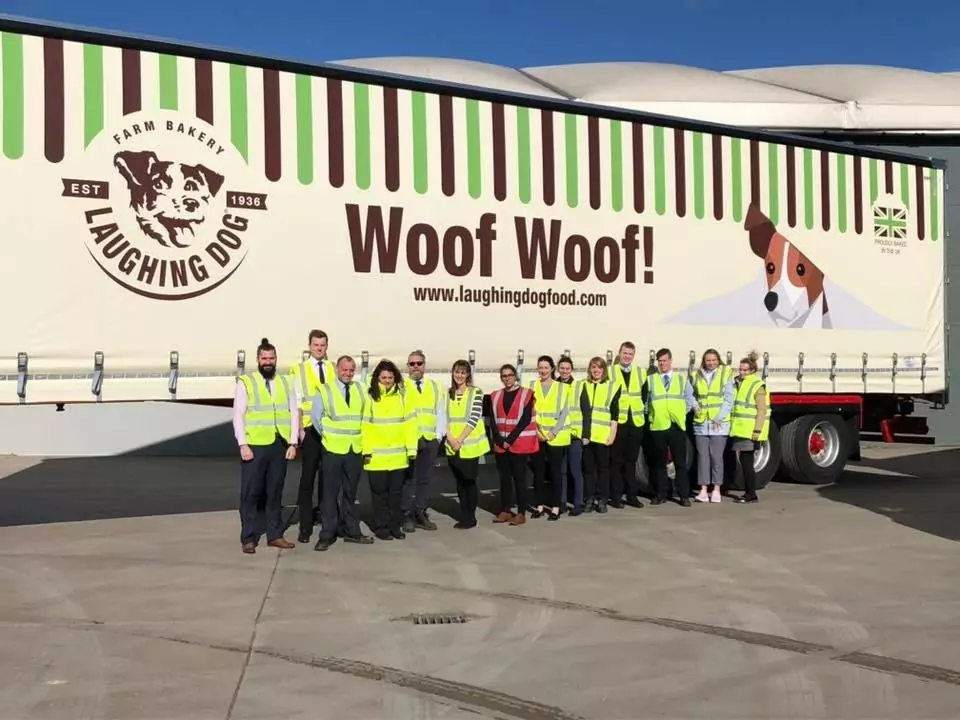 Meet the newest member of our pack…
Have you seen our Laughing Dog lorry curtains….? Organised by local logistics company, George H Kime & Co Ltd, our new designs depict our family bakery's most famous dog, Alfred, who can be found on all our packets of Gloriously Grain Free dry and wet food completes.
Ben Mankertz from Laughing Dog Food said: "We were delighted to work with Kime's on this project. We've worked closely with the family firm for many years and were thrilled when they asked if they could create some branded designs for Laughing Dog. Featuring a playful Alfred was the natural choice; we know our customers like to keep up to date with his latest antics and we thought it was high time he went on a new adventure!"
Nigel Kime, Managing Director at Kime's said: ''We are also proud and delighted to be working with Laughing Dog Food. It's in our interest to support and advertise their natural baked brand, and there is no clearer way of advertising this product than on the roads throughout the UK.''
Give us a woof if you see Alfred out and about
Our special lorry curtains will be travelling all over Britain delivering tasty dog food. If you see them and it is safe to do so, send us a snap and you will receive a 50% discount voucher (max spend £60.00, voucher can be used only once) and a bag of naturally baked dog treats. Pet shops are also welcome to join in – you will recevie £60 worth of free Laughing Dog treats (RRP value, Laughing Dog will pick the treats for the pet shop).
Enjoy free gifts for your dog!
√ Simply post a photo on our social pages (only take a snap if it is safe to do so and you are not driving)
√ Tag us in
√ Or email bakery@laughingdogfood.com.
In return we will send you a 50% discount voucher to spend on our wheat free and grain free dog food and some free natural baked dog treats!
*T&Cs apply. Dog treats will be added to your order automatically and will be one bag of wheat free or grain free natural baked dog treats (our bakers will choose for you). If your four-legged friend has an allergy please let our bakers know.
Our privacy policy can be read here.