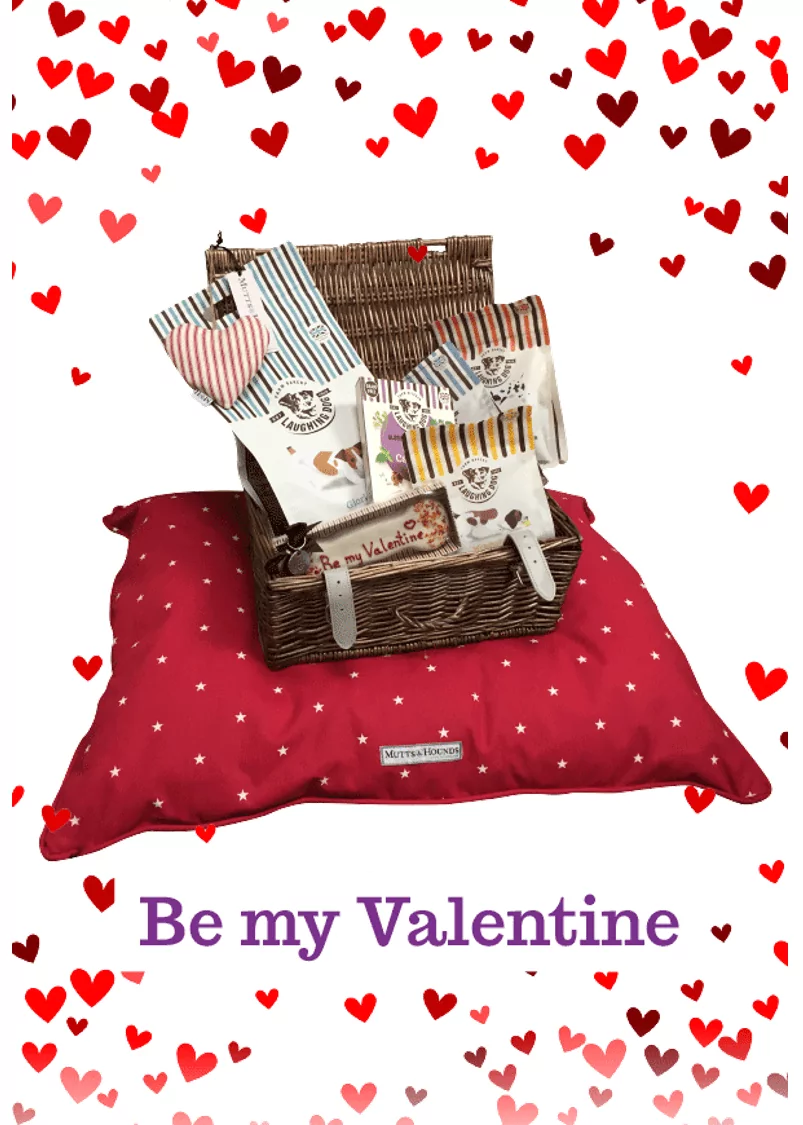 Win Valentine's gifts not just for your pup, but your friend's dog too!
Here at the Laughing Dog farm bakery we are very excited to be working with our lovely friends over at Mutts and Hounds. Providing quintessentially English products for hound and home, the luxury and premium British lifestyle brand offers a wide range of special gifts, each inspired by the beautiful Cotswold countryside surrounding the company's rural workshop in Wiltshire. Their signature collection comprises of a range of original and unique printed linens, Yorkshire tweed and Italian leather, with products ranging from collars and leads to beds, toys and bowls. 

This year we will be working closely with the British brand to deliver lots of treats for our four-legged friends, and to kick start the year we are celebrating with a very exciting Valentine's prize draw.
We know you love your four-legged friends as much as we do, and that you love any excuse to treat them. Although they may not know Valentine's is a special day, our four-legged friends, love and cherish us every day, so it's only natural that we want them to feel special.
This February show them your love with a beautiful Mutts and Hounds pillow bed and 'free kisses given' collar tag, as well as a delicious hamper packed full of natural baked Laughing Dog goodies. Only two to be won!
To Win…
√ Head to Instagram
√ Follow Mutts and Hounds  and Laughing Dog
√ Tag a friend so they can enter too! (in either Laughing Dog or Mutts & Hounds post)
Prize draw starts 14.02.19, ends midnight 17.02.19.
*T&Cs apply. Please read our prize draw terms and conditions carefully. Entry into our prize draw is conditional upon acceptance of these terms. By entering, you confirm that you have read these Terms and Conditions and agree to them. Enter on either Mutts & Hounds or Laughing Dog's Instagram. If you enter on both only one will be counted.
Prize draw starts 14.02.19, ends midnight 17.02.19. UK mainland only. To enter simply follow Mutts and Hounds and Laughing Dog on Instagram and tag a friend who you also want to win into the post. There are no fees to enter. To enter a prize draw you must be A. a UK mainland resident and B. aged 18 years or over. Prize draw excludes Northern Ireland.
This prize draw is not open to any of Laughing Dog's employees, their families, agents or other persons professionally connected with the draw. Third parties providing prize draw prizes:  any employees, their families, agents or other persons professionally connected with the third party are prohibited from entering.
The entry and closing date is specified above. Laughing Dog reserves the right to amend the end date or prize draw details at any time due to events or circumstances beyond its reasonable control.
2 prizes in total worth £170. Prize includes Mutts and Hounds Pillow dog bed, 'Free Kisses Given' dog tag and Lavendar Heart for you. Laughing Dog Grain Free Morning, Noon and Night Treats, Grain Free White Fish Treats, Wheat Free Cheesy Oaties, Wheat Free Joint Care Oaties, 1.5kg/2kg Wheat Free or Grain Free  Complete, flavour of your choice and a bakers apron for you. 1 winner will be selected at random from all eligible entries by a computer process that produces verifiably random results. The decision in respect of all matters to do with the prize draw will be final.
Should you be chosen as a winner, we will ask for your explicit consent to use of your name in any publicity material (print or digital) that Laughing Dog and its third-party partners (those providing the prizes) produces.
The number of winners and prizes will be stated at the time the prize draw is published, but may be changed at any time by Laughing Dog. Please note that we will not publish or make available the names of prize winners without your explicit consent. Winners will be notified within 7 days of the prize draw closing and prizes will be sent within 30 days of the winner being notified.
If a winner does not respond within 14 working days of being notified, they will forfeit their prize, and Laughing Dog reserves the right, at its discretion, to randomly select another winner.
Neither the full prize, nor part of a prize, is exchangeable for cash or any other prize. Prizes are subject to availability and Laughing Dog and its third-party partners reserve the right to substitute any prize with another without giving notice. In the event of unforeseen circumstances, Laughing Dog and/or any of its third-party partners providing the prizes reserves the right to substitute the prize for an alternative of equal value.
This prize draw is not sponsored, endorsed or administered by, or associated with Instagram.
Commitment to the General Data Protection Regulations (GDPR): unless you give informed consent, Laughing Dog will not contact you for any other reason than to let you know the outcome of the prize draw and for the purposes of administering your prize should you be selected as a winner. If you would like to sign up to the Laughing Dog newsletter and/or be contacted by any third-party partners that we are working with to host the prize draw, you can do this by signing up to mailing lists on the Laughing Dog and Mutts and Hounds website. Laughing Dog's privacy policy can be read here.
All entries must be made by the entrant themselves. Bulk entries made from trade, consumer groups or third parties will not be accepted. Incomplete or illegible entries, entries by macros or other automated means (including systems which can be programmed to enter), and entries which do not satisfy the requirements of these terms and conditions in full will be disqualified and will not be counted. If it becomes apparent that an entrant is using a computer(s) to circumvent this condition by, for example, the use of 'script', 'brute force', masking their identity by manipulating IP addresses, using identities other than their own or any other automated means in order to increase that entrant's entries into the promotion in a way that is not consistent with the spirit of the promotion, that entrant's entries will be disqualified and any prize award will be void.
Laughing Dog and its third-party partners will not be responsible for the non-inclusion of entries as a result of technical failures or otherwise, including any such failure which is within the control of Laughing Dog. Proof of submission of entry is not proof of receipt of entry. Laughing Dog accepts no responsibility for system errors or other issues that may result in disruption to lost, delayed or not received entries or winner notifications.
Laughing Dog cannot accept any responsibility for any damage, loss or injury suffered by any entrant entering the prize draw or as a result of accepting or participating in any prize.
If for any reason Laughing Dog is not capable of running the prize draw as planned for reasons including but not limited to tampering, unauthorised intervention, fraud, technical failures or any other causes beyond the control of Laughing Dog which corrupt or affect the administration, security, fairness, integrity or proper conduct of this prize draw, Laughing Dog reserves the right (subject to any written directions given under applicable law) to disqualify any individual who tampers with the entry process and/or to cancel, terminate, modify or suspend the prize draw.
If an act, omission, event or circumstance occurs which is beyond the reasonable control of Laughing Dog and which prevents Laughing Dog from complying with these terms and conditions Laughing Dog will not be liable for any failure to perform or delay in performing its obligation.
Laughing Dog's decision is binding in all matters relating to this Promotion, and no correspondence shall be entered into.
This prize draw is governed by English Law and participants submit to the exclusive jurisdiction of the English courts.