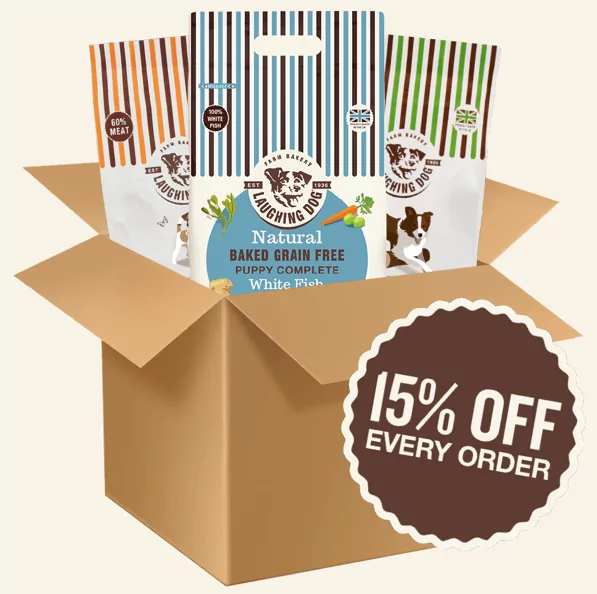 We are delighted to announce that our farm bakery subscription service is now live!
You and your four-legged friend can now sit back and relax, safe in the knowledge that your naturally oven-baked food can be organised to reach you on a regular basis (every week or two weeks, once a month or every two months), giving you more time to enjoy lots of fun filled adventures together!
Enjoy 15% off
When you set up a subscription you will benefit from 15% discount on all recipes.
More kibbles for your pennies
And if you order our large bags or special bundles, you can enjoy even more naturally delicious and nutritious food for your pennies!
Members' only collections
Our bakers have carefully created special collections of treats which are only available to our subscription customers.
Receive a free personalised birthday gift
Once you've created a subscription, you will receive a welcome email inviting you to register your four-legged friend for a free oven-baked treat on their birthday!
Creating a subscription
To create a subscription, simply order as normal through our product pages (ensuring you are logged in if you're already registered as a Laughing Dog customer or create a registered customer account at checkout) and on the order success page you will see a subscription pop up box giving you the option to create a subscription with your chosen farm bakery product. Simply follow the steps to personalise your subscription and select the order frequency that best suits you. Your subscription will be available to view or amend in "My Account" – simply click on the 'subscription tab on the left hand side. Your 15% discount will be applied from your next order.
Free treats this month!
Create a food subscription with us before the end of January 2019 and receive a free box of grain free white fish dog treats (x 4 200g packets) AND a free 1.5kg bag of grain free white fish complete with your second order.*
To find out more
Simply pop to our FAQs, or give us a call on our freephone number 0800 0988057 or email bakery@laughingdogfood.com and a member of the team will be delighted to assist. Our bakery is open Monday to Friday, 8.30am to 5pm.
*T&Cs Apply
To read our full subscription T&Cs click here. Maximum of 3 subscriptions per account. A single subscription can be taken out for one dog, or to cover multiple dogs; you can choose how you wish to use our service to suit your individual needs (remember that our free delivery is for orders £20 or over, so you may wish to build one subscription which ensures you reach this threshold). Subscriptions are for the duration of 12 months; after this time you will receive an email asking if you'd like to renew. Up to three dogs can be added to our free birthday baked gift service.