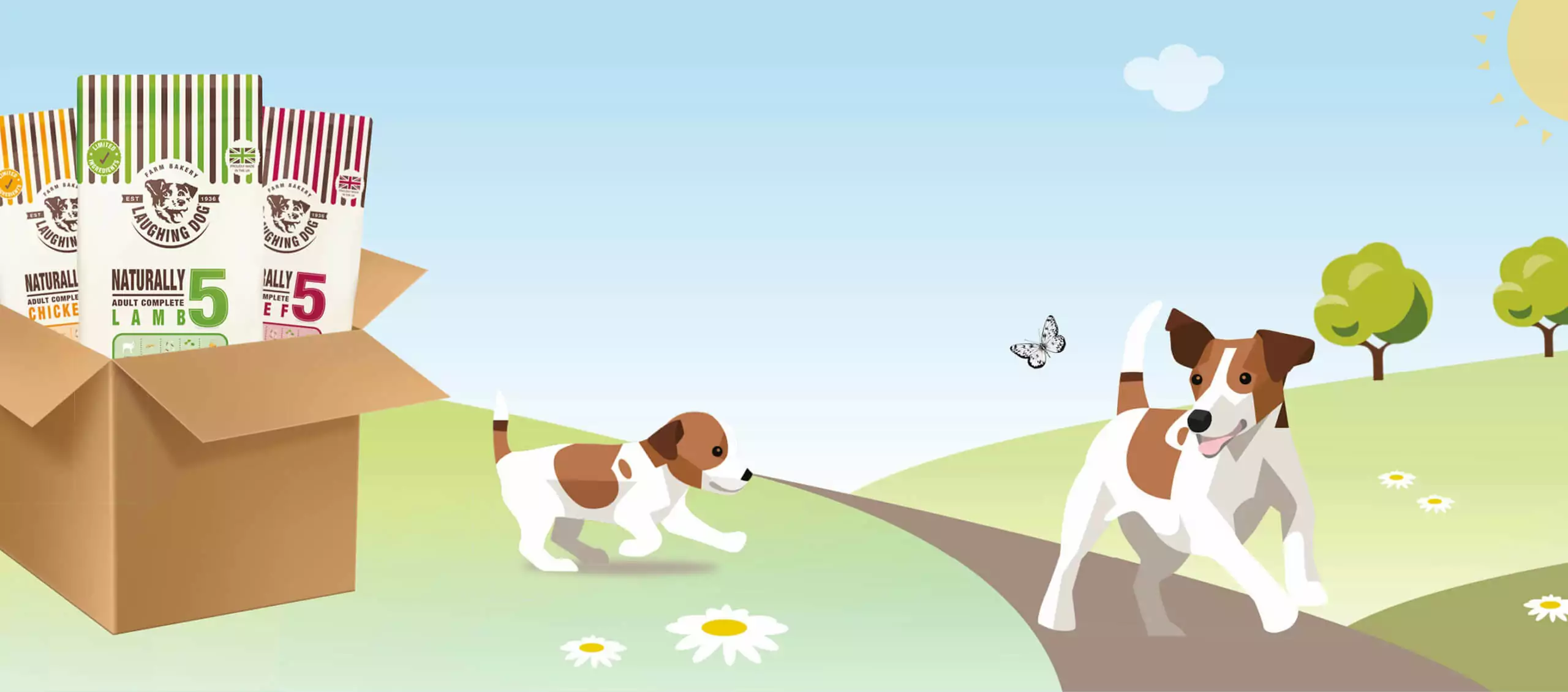 The Laughing Dog team's favourite places for walks and picnics!
**With COVID-19 social distancing measures in place, we'd just advise that you check out these areas online first in case of any restrictions.
Pencarrow, Bodmin, Cornwall
Pencarrow House and gardens is best for you and your four legged friend if beautiful formal landscaping is your thing! Not to mention the woodland walks too, for more natural terrain to sniff! Dogs are welcome provided they are kept on the lead near the house and Peacock Café, however once you reach the woodland walks, they are allowed to run free.
Hardcastle Crags, West Yorkshire
Hardcastle Crags is a real gem and can be found just west of Halifax. Here you can enjoy a 3 mile trail that allows you to explore the wooded valleys brimming with tumbling steams and mossy rocks. You and your dog can enjoy the rocky paths to the hilltops or take it a little easier by the old weirs, ideal for a spot of paw dipping in the fresh water.
Richmond Park, London
This stunning location is one of London's biggest parks and popular not just with the locals but with keen dog walkers across the UK. It is a real treat, thanks to nearly 7 miles of green spaces, woodlands and ponds. Dog walkers are advised to avoid the park during the deer rutting season in September and October and birthing season from May to the end of June.
Attingham Park, Shropshire
This beautiful estate belongs to the 18th century mansion of the Berwick family and provides a truly relaxing yet captivating stroll. Explore the wide open spaces and 370 acres of glorious woodland, along with over five miles of river – great for paddling with your four legged friend. Look out for the resident wildlife including some 200 fallow deer in the Deer Park.
"370 acres of glorious woodland, along with over five miles of river…"
Stonebarrow Hill and Golden Cap, Dorset
The South West Coast Path offers plenty of walking for you and your furry friend. There are miles of footpaths to explore on the Golden Cap Estate with many offering magnificent views across the Jurassic Coast, a UNESCO World Heritage Site. Join the path at Stonebarrow Hill, near Charmouth for a two mile circular walk in this designated Area of Outstanding Natural Beauty (AONB). Take the dog for a splash in the sea at Charmouth's east beach (dogs are allowed after 6pm during high summer).
Rhossili Bay, Gower
This truly is one of the most idyllic beaches across the UK. Rhossili Beach on the Gower coast of Wales boasts three miles of sandy shoreline and wonderful views welcoming dog walkers all year round. Check the tide times before you set out, and bring a ball and you can easily spend hours walking on the beach. How can you not be 100% dog happy at the beach?
Woolbeding Parkland & River Walk, West Sussex
Woolbeding National Trust contains picturesque parkland and river walks open to the public on Thursdays and Fridays from April to September. You and your dog will gain access to the 16,500 acre Cowdray Park and Castle at Midhurst. There are several wonderful walks around this peaceful part of Sussex. If you are both feeling fit enough – the suggested Midhurst River Walk takes you through woods, across meadows and around a large lake for a walk both you and your dog will treasure – just make sure you pack a few Cheesy Oaties to keep your four legged friend going!
Killerton, Devon
We have a feeling this may well become your favourite place for a game of fetch! The wide open spaces on this glorious 2.5 mile circuit allow you stunning views of the Devonshire countryside, marvelling at distant scenery of orchards and gardens. There's also the 18th century Killerton House with its glorious landscape garden to explore which is surrounded by lush parkland packed with rare and giant trees.
Ashridge Estate, Hertfordshire
Your dog will be in their element running free through the ancient forests, rolling chalk lands and lush meadows this estate offers in abundance. Ashridge is not only rich in wildlife, it abounds with history too. History buffs will be delighted by Iron Age farms, Roman settlements and ancient monuments that represent Ashridge's colourful past. Climb to the top of Ivinghoe Beacon and enjoy a well-earned rest with your canine pal as you gaze at the Bronze Age burial grounds and rutted cattle tracks.
Plymbridge Woods, Plymouth
These gorgeous woods border the famous River Plym and as a result offer truly outstanding views as far and as wide as the valley stretches. Dogs are kept well entertained by the varied terrain and will be kept busy for hours sniffing until their hearts are content. Look out for countless wildlife attractions along the path, as you may well spot sea trout, peregrine falcons, dippers, kingfishers, deer and other natural beauties.